Summary
Innovation: To sensitize adolescent girls and women to build a gender
sensitive society
Duration: Annually
Location: Government Schools and Colleges, Social Welfare Hostels, Anganwadi Centres of Y.S.R. Kadappa, Andhra Pradesh
Key Stakeholders: Officials from ICDS Department (AWW, Supervisors CDPO and DPO), Officials from Department of Education, Officials from Department of Social Welfare, Officials from Department of Health, Gram Panchayat Members, Adolescent Girls.
Brief Description
Women's Parliament was organized at the District level to build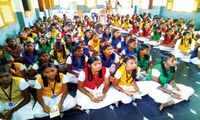 awareness and sensitize women and adolescent girls regarding the objectives of Beti Bachao Beti Padhao (BBBP) Scheme. Important issues were highlighted on gender equality, women's empowerment, sex ratio at birth, women safety, reproductive and sexual health, child protection etc. Through this parliamentary sessions masses were made aware about various aspects of schemes run by the Government.
Rallies and mock parliamentary sessions were conducted centering around Schemes and Acts for the protection and welfare of the Girl Child. An interactive session was conducted among students and District officials from various Departments on BBBP and how it can play a vital role to increase the CSR (Child Sex Ratio). The role of girls and women in developing and nurturing a society was also one of the key highlights.
Factors Contributing to Success
The Women's Parliament is an initiative that saw a high participation a various stakeholders, which has led to a significant increase in awareness on BBBP and its objectives.
Outcome, Benefits & Impact
Various issues related to girls and women such as gender equality, women empowerment, sex ratio at birth, women safety; reproductive and sexual health, child protection etc. were successfully highlighted at district level platform. Through this forum, people became more aware about components of BBBP Scheme. They were motivated to challenge son centric traditions and rituals. A total of 738 participants attended the Women Parliament and 115 participants took part in essay competition on the topic of importance of Girl Child. Posters, banners were displayed and pamphlets were distributed to generate awareness on BBBP Scheme.
Future Prospects
The Women's Parliament will further provide an effective platform for girls and women to become more aware and motivated. Besides being acquainted with Parliamentary procedures, they would be encouraged to participate in political processes and further take forward the message and cause of girls and women. This will also help adolescent girls become a catalyst of change in society.